OpenBook Finance App Download 2021: OpenBook App is a one-stop-shop for all small company owners in India. Any business owner may now manage their business finance demands with a single app.
OpenBook App
About OpenBook:
OpenBook app can be used by businesses to send payments to their clients. In order to facilitate money collection, invoices provide a payment option. When the party receives it, they can quickly pay via UPI, NEFT, RTGS, net banking, or cash.
If you are currently conducting a business using traditional methods such as ledgers, khata, manual input books, and so on, OpenBook is the solution for you.
You may send digital invoices to your customers to save money on printing. Accounting is aided by digital invoices because records are kept in the app and human efforts during reconciliation are reduced.
There is no longer a need for a separate app for tasks such as billing, accounting, banking, and GST. This online accounting app was created specifically for Indian businesses. The solutions are designed with various issues encountered by small companies such as manufacturers, distributors, retailers, and so on in mind.
OpenBook Finance App Download 2021
OpenBook is for everyone who wishes to simplify their business, whether you own a Kirana store or a tiny dukaan, electronics store, or restaurant.
Definition: Openbook management (OBM) is defined as providing every employee of an organization with the necessary knowledge about the processes, proper training, and decision-making authority to assist them in running a firm. It all comes down to teamwork and moving forward as a group
Features of OpenBook Finance App:
• Having an online bank account, which aids in automated reconciliation?
• Sending bills/invoices to customers/vendors
• To facilitate the collecting of funds
• To expedite the money-transfer process
• To make business accounting easier to understand.
• Managing GST from a single platform
One of the most essential features of OpenBook is the ability to connect several bank accounts (both current and savings) and view a summary of all bank statements. This will assist you in keeping track of your financial flow.
As a small firm, you require something that will simplify your efforts in running your day-to-day operations. It also assists you in keeping track of all your payables and receivables. This tool allows organizations to access all bank account information in one location.
OpenBook app was created for Indian businesses. The solutions are designed with various business concerns in mind, such as:
•Manufacturers
•Distributors
•Retailers
•Freelancers
•Electronics shop owner
•Restaurant owner, etc.
OpenBook App is available in various Indian languages, allowing you to conduct business in the language with which you are most comfortable. It is safe to use and is available on both desktop and mobile platforms. You should also keep a backup of all of your accounting data.
Aside from the capabilities listed above, you can also access Tally accounting software over the OpenBook web. It allows you to sync all of your data and have a better understanding of your business.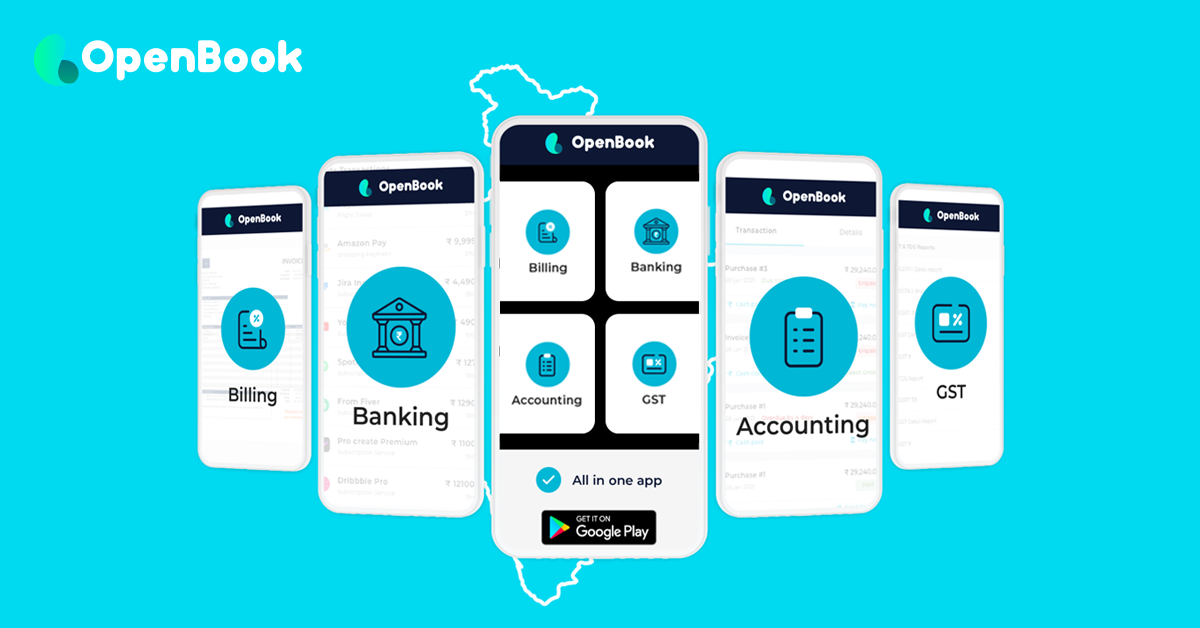 OpenBook Finance App Download 2021
OpenBook has all of the features you'll need to control your business earnings. It also allows you to send alerts to parties (vendors/customers) to help with the timely recovery of liabilities.
You can notify your parties, regarding payments across WhatsApp, email and messages Send out simple payout links and accept several payment options such as UPI, net banking, payment cards, and cash.
It is secure to use and is downloadable both on desktop and mobile platforms. You should also keep a backup of all of your accounting data.
In addition to the functions listed above, OpenBook provides access to Tally accounting software. It allows you to sync all of your data and have a better understanding of your business.
OpenBook provides the most comprehensive set of reports to help you operate your business more effectively, including:
• Day Book
• Sales Report
• Purchase Report
• Sales Order Report
• Purchase Order Report
• Delivery Challan Report
• Profit & Loss Report
• Balance Sheet
• Cash Flow
• Trial Balance
• Stock Summary
• Low Stock Summary
• Item Sales Summary
• Item Report by Party
• Rate List
• Receivables
• Payables
• Party Report by Item
• Party Wise Outstanding
• GSTR 2 (Purchase Report)
• GST Detail Report
Here are some ways that OpenBook App can help you streamline your business finances across the board.
Banking:
• Get a quick online account
• Get an internet business ATM card
• Make, collect, and track payments from third parties
• Automatically match all of your transactions
Accounting:
• Create GST-compliant bills with an integrated payment link
• Create and share bills • Simple accounting
• Maintain inventory control
• Obtain comprehensive reports Cash flow, Profit & Loss, Balance Sheet & more
Tax Management:
• Keep accurate records of all tax obligations;
• Make TDS payments immediately from the app
Features Coming Soon:
• Easily connect various bank accounts;
• Check bank statements from a single location; and
• Manage GST returns.
• Create an E-way bill
Also Have a Look on, Life Insurance Policies in 2021
Conclusion:
The OpenBook App is beneficial for small businesses to record information such as sales, sales orders, and so on. This is a handy and simple way to bill a business analysis and also send and receive money utilizing a secure and safe account.